vs.
6:00
Well, let's not discuss Game 2.
Sorry for the lack of a recap, but I only caught the first,
and it was a rough loss anyway.
Tonight they bring it home to Philly.
BOOSH
has had better games in his past,
but he didn't play terribly and I still have faith.
He let a soft goal or two in,
but the team didn't play well enough for a win.
You had to expect that from the 2nd team in the conference,
honestly we weren't supposed to win the first one.
We went 1 - 1 away, have to respect that,
and we're gonna make it 2 - 1 tonight.
Richards has really stepped up so far,
let's hope the rest of the offense jumps in too.
We don't want them sitting back on their haunches because they won one away,
and we know they have a tendency to do that.
==================================
:: Bett's Blog [
Flyers
]
I respect the use of alliteration.
:: Pronger is lanky? and a good leader. [
Philly
]
Decent article, dunno about him being lanky though.
:: Carter is frustrated with lack of production [
Philly
]
Yea well he probably should be,
haven't seen him do much but miss high and wide this post season.
Yes, I write this while wearing his jersey.
====================================
:: The Debbies recap [
Devils
]
Ehh, they don't really put articles out,
gotta find something.
:: Kovalchuck commits to many penalties [
NJ
]
Yup, keep em coming.
:: Devil prepare for Flyers [
NJ
]
honestly, that link is worth clicking for the picture alone.
==================================
The Penguins and the Capitals tied their series up.
It'd be more fun to just watch both teams lose,
winning is great, but it's so much sweeter when the Pens are losing.
Penguins vs. Senators 1 - 1
Capitals vs. Canadians 1 - 1
Kings vs. Canucks 1 - 1
Bruins vs. Sabres 1 - 1
Red Wings vs. Coyotes 1 - 1
Predators vs. Blackhawks 1 - 0
Sharks vs. Avalanche 1 - 1
Yes, ever single match-up except one is 1 - 1.
I'm not quite sure how the Preds and Blackhawks have only
played 1 game.
It's a great playoffs.
The [
Pensblog
] has a pretty funny video with Sutton being a wah wah.
=================================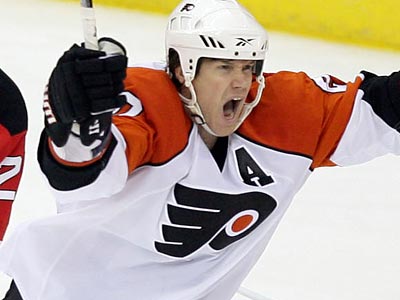 LET'S GO FLYERS