Alright it's been an anxious week to say the least.
There's been enough feces thrown between Flyers and Pens fans to impress a monkey.
Now it all comes down to who gets work done.
All the smack talk doesn't mean anything when you're down by 2, got that Pens?
Game is tonight at 7:30pm at the Mellon Arena in Pittsburgh, and we figure since it starts there,
the Flyers will stun them in their own house.
The Flyers have been thirsty for the cup since 1975 and this year they've got a real shot.
We've got a young team, with some deep scoring (Only team in the league with seven 20+ goal scorers).
Any Flyers fan knows what we're talking about... you can just feel it.
Don't get caught on your heels Pens, we're out for blood.
=========================================
There has been a ton of discussion on Kimmo in the past few days.
There has been a lot of speculation as to who will replace Kimmo in the line-up.
Modry will probably take his place, and Parent is the other candidate.
We're honestly hoping it's not Modry at this point unless he steps up his game and plays like a vet. (heh)
::
Quick Interview with Kimmo: [
Hockey Buzz
]
We'll post the entire thing because everyone wants to know.
Interview
Q: What is your reaction to what has happened?
Timonen
: "Hugely disappointed obviously. I was not expecting to get this result this morning. It's the most disappointing thing in my hockey life for sure.
Q: What are the doctors telling you?
Timonen
: "It's a blood clot. They were able to see it really well. They were thinking about a couple of options, either having surgery and try to remove it, but the best option for me I think is going on clot thinners and hopefully those things help."
Q: Are they telling you how long it might take for the blood clot to thin out?
Timonen
: "Nobody knows that, but I started today and we are going to have a check up at the end of next week. Nobody really knows. It's probably individual how that blood thinner works."
Q: Emotionally what is this like for you?
Timonen
: "It's an awful feeling. I was expecting to play tomorrow and you go into the hospital to make sure everything is all right and come out knowing that the season is over pretty much. How many times in your life do you get the chance to play in the Conference Finals and maybe the Stanley Cup Finals? So it is the most disappointing moment in my life hockey wise."
Q: Your team has overcome injuries before. You have been a real key to your team's success. What do you see happening here?
Timonen
: "Exactly like you said, we had some key guys out of the lineup the whole year and now hopefully somebody can take my role. I am sure there is going to be somebody playing really well. I am just hoping this is not a huge distraction for the team because now we are talking about the (Eastern) Conference Finals and hopefully those guys can focus on winning the game tomorrow. I am sure everybody is really focused and ready to go tomorrow."
Q: How big is the clot?
Timonen
: "I was not able to see. It is noticeable, but I cannot say how big it is."
Q: You have been through a similar injury like this before in Nashville haven't you?
Timonen
: "Like five years ago in a similar situation, I got hit by the puck, same ankle. A lot of pain came and there was a blood clot."
Q: Do you remember when this injury happened in the game?
Timonen
: "It happened the last shift of the game. I think we were killing a penalty or it was 6-on-5 and I think it was (Andrei) Markov who shot it from the point and it hit my ankle."
Q: What did they do after that?
Timonen
: "We treated it like it was a normal bone bruise and it felt like it too. We iced it down and did the exact same thing we do with this kind of injury. In Game 5 in Montreal, I started feeling a little numbness in my toes and I was able to play through it that game and it was a little painful. Sunday we had a day off and Monday we practiced, same kind of feeling, a little numbness on my toes and Tuesday we had a day off and yesterday same kind of feeling and we decided to do a check up and see what is going on there and today we found out."
Q: Did you have any idea, with a past similar injury, that this could be what it was?
Timonen
: "Not at all because last time when I had it five years ago it was really painful, I couldn't sleep at night and this time I have been sleeping pretty well. This has not been as painful at all like it was five years ago. I wasn't expecting to get this kind of result."
Q: What did the doctors tell you in terms of the risk factor if you tried to play and got hit in the same area?
Timonen
: "I asked the doctor the worst case scenario what could happen and he said, 'if you get hit there again the blood clot might break up and go down to your toes and then we have to cut off your toes' so that is not a very good scenario."
Q: Where are you right now?
Timonen
: "I am at home right now."
Q: Are you allowed to do any exercise?
Timonen
: "I didn't ask anything about exercise. We are going to do a check up next week and see if it's any better and kind of go from there."
Q: What is the best-case scenario?
Timonen
: "That hopefully it is better next week. I honestly asked the doctor do you have any hope playing this series and he said only if it really goes well the next week and a half to two weeks."
Q: Have you spoken to any of your teammates?
Timonen
: "I have a lot of text messages, but it's been a busy day, so I have not had the chance to talk to anybody besides my parents and my brothers. I am going to talk to Sami (Kapanen) probably tonight and I am going to give John Stevens a call tonight too."
Q: Are you going to make any trips to Pittsburgh or are you going to stay home?
Timonen
: "I actually talked to our team guy and I would like to be there tomorrow, but we will see if that is a possibility. I would like to be there that's for sure."
Q: Do you still have to ice it?
Timonen
: " No."
So there you have it. Here's to a healthy and speedy recovery Timonen.
Would love to see him back to kick some Pens ass, unless Crysby is diving like always.
Yes, bitch about this in the comments... I know you will :)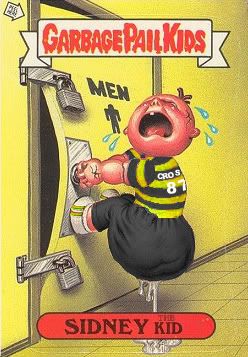 =========================================
Statue Owned = Statowned
On a much lighter note, we just want to send a big "You're a CHAMP!" to a reader of TOC.
He owned the statue of Art Rooney, founder of the Steelers, in front of Heinz Field.
So much for the Crosby jersey business, our payback is just so much more... sincere.
Not to mention, we think he looks better in orange and black.
(Then again what doesn't)
Craiglist ad has been fulfilled [
Craiglist
]
Seems like we've beat the Pens to any real Rocky posting what's up [
The Pensblog
] ?
Sure you guys got a jersey at the feet of the statue... but no pics?
=========================================
Dear Pens,
The Orange Crush
would like to offer you a quick message:
[
Jürgen
J.]
Call in your tee times now for next week boys, you'll want to get out early to beat the Caps.
You can check out [
Golf Philly
] for some information on a local club since you'll be in Philly after the sweep.
=========================================
::
John Stevens is the man, and one hell of a coach [
Philly.com
]
The idea, as Stevens said the other day, "is that all the ingredients by themselves aren't that appealing.
But when you mix them with some fire you come up with a better product in the end. That's kind of who you are.
::
Crosby dislikes Hatcher - no one cares [
Philly.com
]
It's not even a competition, favorite quote from article:
"Sidney Crosby has not forgotten losing three teeth, courtesy of defenseman Derian Hatcher's high stick,
during his rookie year in the NHL."
High stick... or shear power?
::
Flyers are deep with four good lines [
NHL.com
]
We know, but just to further back us up.
=========================================


The Wings came out to walk all over the Stars last night unfortunately.
If this continues our King Leonidus vs. Messenger story will prevail, and no one wants that.
[
NHL.com
]
We just hope to see more close games in the Conference Finals, everone knows the Wings are good,
but they aren't unstoppable.
Detroit leads the series 1 - 0
=========================================

::
Crosby and Hossa are becoming butt buddies [
Penguins
]
Malkin cried to himself last night as Crosby snuck into Hossa's room.
::
Crosby is worried about Sir R.J. of Umberger [
PG
]
He damn well should be.
::
The Mellon Arena plays the game on a huge Jumbo [
PG
]
That's actually cool as shit, a huge drunken tailgate party just outside.
=========================================
LET'S GO FLYERS
Don't forget to submit any and all pictures, photoshops, stories, or writing you may want posted to our email at orangecrushblog@gmail.com