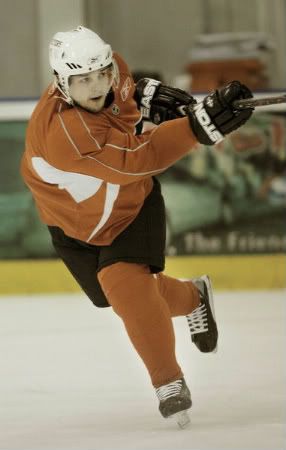 So here we go.
Could the Pens have any bigger of an e-penis?
I've never seen so much smack talk in my life.
So, unlike Becky, I've got no problem trash talking up a storm.
You guys start out the first round with a sweep against the Sens,
Yea the team that fell apart the last month of the season... what a joke.
Then you parade around like you're some type of god,
The Islanders could sweep the Sens.
As much as you guys want to bitch and moan about the stats,
the Flyers did take the season series 5 - 3, and because it's a true stat...
it's a pretty valid source and throwing it away is denial.
The second round you faced the Rags, and I'll admit you had a good series.
Then again, it was obvious NY wasn't playing their best,
and Jagr's gay landing strip 'goatee' wasn't helping.
In that series, it was shown that you guys weren't so unstoppable.
So the Flyers are just gonna keep on doing what they do.
"Don't worry, I'm the 'Next One!' (not quite as good as Ovechkin)"
WE'VE GOT CROSBY! HELL WE HAVE MALKIN!
God how many times have we heard this? Pens, get new material.
There is only so much I can point out that everyone can see right through.
Skill is skill, but nothing beats heart.
======================================
Just... no.
On a note to Cindy - before you try to grow a playoff beard... be able to grow a beard.
You'd look less douchey if you just said you don't believe in superstitions,
but no, you had to attempt.
======================================
OWNED
The guys over at The Pens-Are-My-Life-Blog have decided that
no one ever gets away with diving. [
The Pensblog
].
In fact, they claim that Crosby has not even been called for diving before,
so I guess he never dives, right... pulling at straws boys, try to maintain dignity.
I'll 1up you guys, here's a VIDEO of him getting called for it:
Not to mention this may be the only time in history diving has been called without the original 'penalty'.
You're welcome, and this next video is just an obvious dive.
That's good enough evidence for me.
======================================
On a more solemn note:
Kimmo Timonen is out indefinitely and the estimate is 3 months.
He has a blood clot in his left leg/foot and it's a pretty scary situation.
It couldn't have come at a worse time for the Flyers,
but we just hope he's alright.
We also hope they don't put Modry in.
======================================
I'll put up news and gameday post tomorrow.