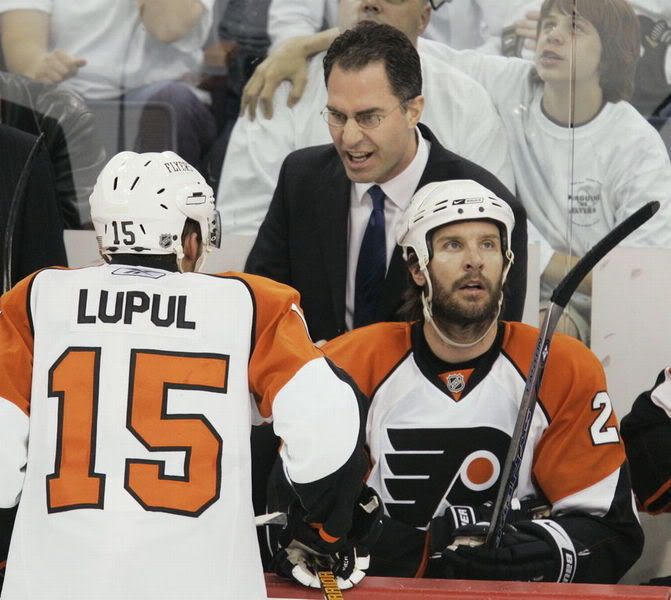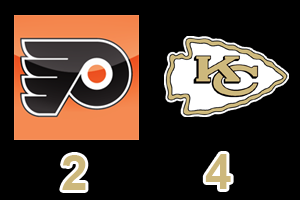 [ NHL.com Recap ]
Rough game, rough game.
The Kansas City fans came out roaring in their white wash, I gotta give them credit.
The Flyers looked alright for a bit but slowly fell apart.
Can't blame the loss on the lack of Kimmo, he couldn't have helped much.
Marty Biron the god didn't play as well as he has been lately, and played the puck too much.
I'm not too worried, we've loss the first game of every series so far,
not to mention it looks like Richards is here to play this series.
The game was bad, I don't want to talk about it.
No Crosby didn't dive like he normally does and the refs were fine, I admit it.
==================First Period==================
This recap will be short because I am bitter.

The game didn't start out too bad, both teams looked pretty decent.
Then Pens killed off a delay of game PP, and Sykora scores soon after because Modry is out of position.

1 - 0
Soon Richards - the only player on the team last night - puts one in on a wrap-around.
1 - 1
The Flyers start looking a bit better, and Versus coverage continues to be gay and not tell us anything.
The Flyers get the puck on the doorstep, and after some attempts to poke it home, it pops out and Richards again scores.
2 - 1
Just when the Flyers fans have a little bit of hope, and ounce of happiness, and a bucket of pride,
Biron gives it up to Hossa behind the net who dishes to Crosby for a goal. LAME.
2 - 2
(Is that Briere? For some reason we thought he was a healthy scratch... hmm)
The Flyers have a couple of chances while MAF gives up his signature Fleurebounds™, but no money.
The KC Cheifs, erm... Penguins come out and start to look comfortable.
With less than 10 seconds left in the period Malkin socks it to Marty and puts one in the back of the net.
3 - 2
At this point I'd rather be eating a french fry sandwhich at Primanti's.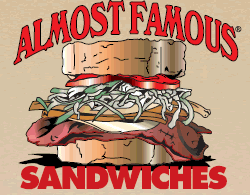 ==================Second Period==================
Flyers lost any momentum they may have had, and are playing like Rudy... with even less heart.
Flyers are on a Powerplay.

I don't feel like mentioning the rest of the period.
==================Third Period==================
(Yes baby, I feel the same way)
Fleury looks good in the period, but the Flyers continue to be awful.
There's a bunch of garbage that I don't feel like typing out, but I do want to note Hatcher yelling something along the lines of "He's touching me with his gloves off!"
The Flyers lose.
NOTES:
- Biron didn't look as good as he has lately.
- No one on the team showed up for the game except Richards.
- Briere would be just as successful as a healthy scratch.
- The Flyers have lost the first game in every series and still won the series.